All text and images ©2018 David Hill Photography


Aura
Portland, Maine
July 5, 2018



5/5



Thursday, July 5th was the return to Portland for Frank Turner as he took over the stage at Aura, for what he called "my biggest headlining show ever in Portland". Before Frank came out at around ten o'clock, the crowd was treated to two great opening acts.
First up was Brooklyn's Kevin Devine, who played a quiet and moving set, most notably "

No History

". The passion in his singing was the perfect way to get people headed towards the stage.


Frank Turner and Matt Nasir at Aura on a hot July night

An incredibly symbolic moment of lighting during Kevin Devine's "
No History
"​
Frank played a stripped down set, with only himself and Matt Nasir on mandolin and mandola on stage. He immediately apologized that his voice was still a bit out from his Boston show, but you never would have known. For nearly two hours he played songs spanning his career, including "

Long Live the Queen

", and "

Photosynthesis

" from "
Love, Ire, and Song"
, all the way to "

1933

", and his love song "

There She Is

" from his 2018 release
Be More Kind.


After about a dozen songs, Nasir left the stage and Frank played solo for a while, including internet requests for "

Mr, Richards"

and "

Heartless Bastard Motherfucker

". The crowd joined in heartily for "

Glory Hallelujah

" and "

I Am Disappeared

" from the middle section of the show as well.
Nasir rejoined Turner to finish out the night, beginning with a crowd favorite "

The Way I Tend to Be

", adding in "

I Still Believe

", a cover of Queen's "

Somebody to Love

" which brought the noise levels to a roar, then finishing up with "

Get Better

".
Although the show wasn't sold out, it was a good sized crowd. The floor was full, the balcony area nearly full, and the bar area had a crowd as well, but still enough room to get by, which has been a little difficult at other shows at Aura. The sound was spot on, from the nuances of Kevin Devine's performance, to Turner's hard driving acoustic guitar and vocals. As always, the lighting at Aura was great, still the best in Portland, in my opinion.
As the show ended and people spilled out onto Center St., I heard many saying what an incredible show they had just seen, both from long-time Frank Turner fans, and those seeing him for the first time. If you missed this show, keep your eyes open, he'll be back to, as he called it, "the better Portland".


An enthusiastic crowd welcomed Frank and Matt to the stage.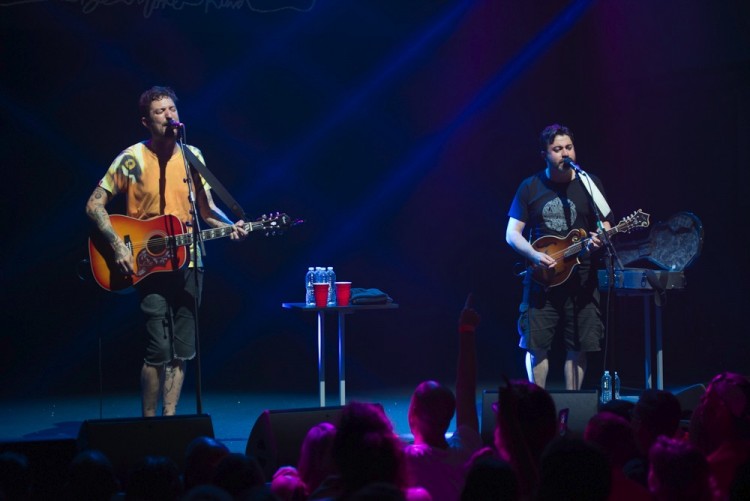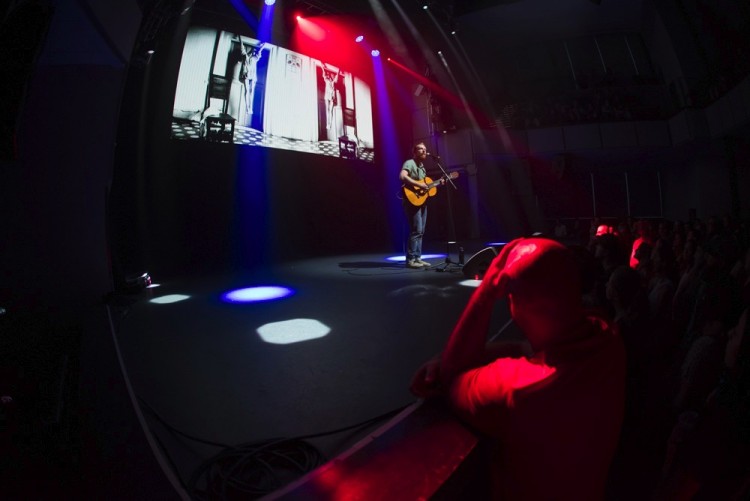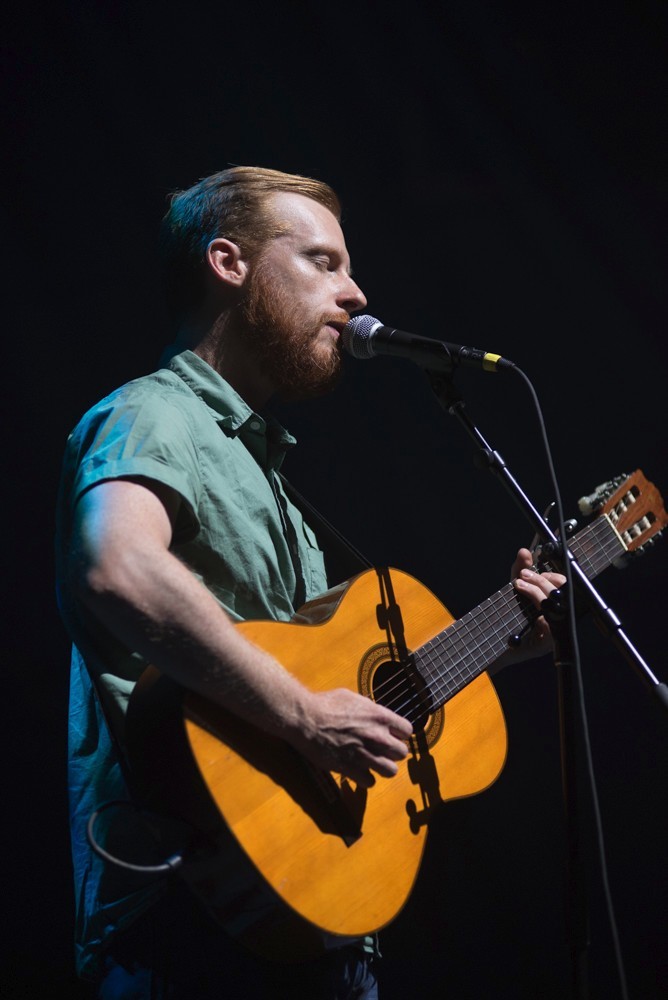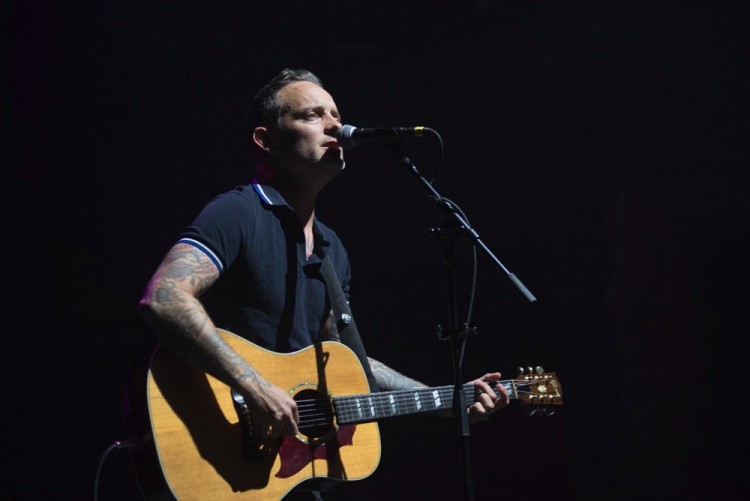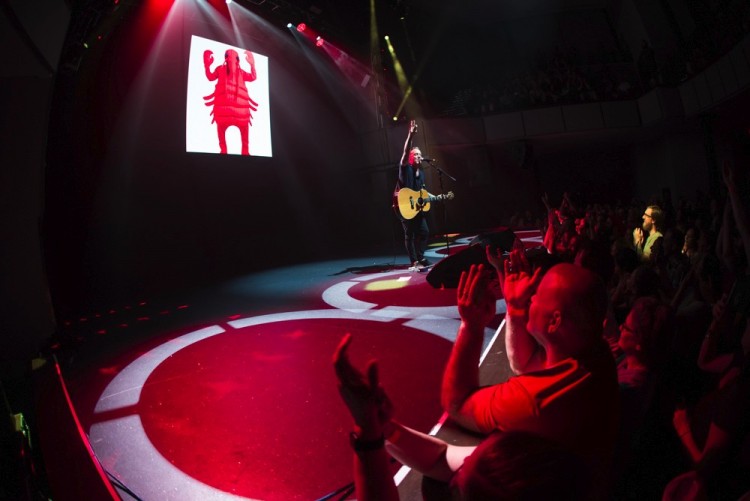 After a number of strange audience requests, Dave Hause finally got his lobster on the big screen as his set came to a close
Following Kevin was Dave Hause, of The Loved Ones. Dave brought a little harder edge, and a lot of humor to his time at Aura. "
C'mon Kid
", and "
Time Will Tell
" were two crowd favorites. Hause was a little jealous of Devine's photo backdrop, so he elicited requests from the audience to create his own. What he ended up with brought many laughs, and a lot of levity. With photos of Chicago (the band, not the city), Popeye, Michelle Obama, Patrick Swayze, a bulldog pup, the Spice Girls, and finally a cartoon lobster, even Hause had a hard time containing himself at times.